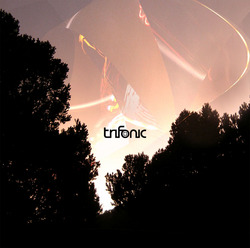 Thanks to the community at ccMixter for all the inspiring remixes and support! We wouldn't be here without ccMixter… seriously, that was our first real step as Trifonic.
- B. Trifon
Trifonic
are brothers Brian and Laurence Trifon. Their music blends manipulated ambient sounds and synths with live guitars, strings and other instruments to create an alternative electronica sound distinctly their own. After working as a guitarist and programmer for electronic artist BT, Brian teamed up with Laurence in 2007 and composed several contest winning, standout remixes for ccMixter and licensed music to TV shows including CSI.
According to LT: "the impact of CC has been huge for Trifonic." Read more about the making of Emergence, their working methods and why they chose to put the album into the Commons in the
Trifonic Spotlight Q & A
They have put the solo studio tracks from their debut album
Emergence
, into the Commons. Including a cappellas by Amelia June, Christina Courtin and David Forest.

Download high quality MP3s of the a cappellas and preview samples from Trifonic's profile page.

For uncompressed full tracks use the links below:
Emergence
Trifonic_Emergence_inst.zip
(149.4MB)
Broken
Trifonic_Broken_inst.zip
(127.5MB)
Trifonic_Broken_vox.zip
(68.4MB)
Parks On Fire
Trifonic_ParksOnFire_inst.zip
(155.1MB)
Infiltration
Trifonic_Infiltration_inst.zip
(32.8MB)
Lies
Trifonic_Lies_inst.zip
(124MB)
Trifonic_Lies_vox.zip
(55.3MB)
Transgenic
Trifonic_Transgenic_inst.zip
(109.5MB)
Trifonic_Transgenic_vox.zip
(41.4MB)
Sooner Or Later
Trifonic_SoonerOrLater_inst.zip
(135.5MB)
Trifonic_SoonerOrLater_vox.zip
(70.2MB)
Vacuum Tree
Trifonic_VacuumTree_inst.zip
(60.8MB)
Good Enough
Trifonic_GoodEnough_inst.zip
(111.1MB)
Trifonic_GoodEnough_vox.zip
(16MB)
These tracks are licensed under a Creative Commons
Attribution-NonCommercial
license.